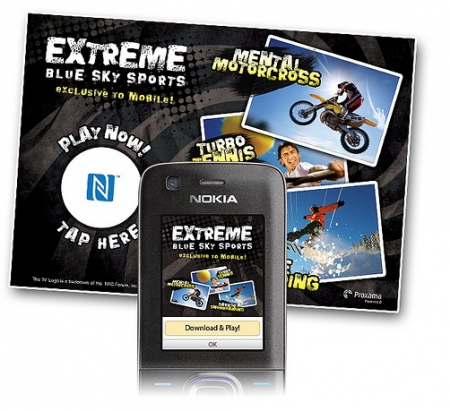 Here I'm going to
focus on the URI records
and their possibilities to perform actions in NFC capable mobile phones when reading this type of tags. The URI specification says that these are the supported schemes:
| | |
| --- | --- |
| URI Identifier Codes | Schemes |
| 0x01 | http://www. |
| 0x02 | https://www. |
| 0x03 | http:// |
| 0x04 | https:// |
| 0x05 | tel: |
| 0x06 | mailto: |
| 0x07 | ftp://anonymous:anonymous@ |
| 0x08 | ftp://ftp. |
| 0x09 | ftps:// |
| 0x0A | sftp:// |
| 0x0B | smb:// |
| 0x0C | nfs:// |
| 0x0D | ftp:// |
| 0x0E | dav:// |
| 0x0F | news: |
| 0x10 | telnet:// |
| 0x11 | imap: |
| 0x12 | rtsp:// |
| 0x13 | urn: |
| 0x14 | pop: |
| 0x15 | sip: |
| 0x16 | sips: |
| 0x17 | tftp: |
| 0x18 | btspp:// |
| 0x19 | btl2cap:// |
| 0x1A | btgoep:// |
| 0x1B | tcpobex:// |
| 0x1C | irdaobex:// |
| 0x1D | file:// |
      uri = nfc.ndef.Uri.UriRecord(myURI) 

// Creation of URI Record


      uri._data = '\x00'+

myURI

 

// 0x00 URI type is any URI


      message = nfc.ndef.Message(uri) 

// Creating the NDEF Message


      tag.ndef.message = message.tostring() 

// Writing to the tag
I've performed several tests writing different URIs in the tags and reading them with a Samsung Galaxy Nexus running Android 4.0 (Ice Cream Sandwich). I have also added
some other URIs related to well known applications
like Facebook, Skype or GTalk. In most of the cases the URI was not recognized by the phone. In other cases the URI was associated to the application but no action was performed, just waiting to the user action. This is the case of "tel:" (phone call), "sms:", "mailto:", "file://", "fb://" (Facebook URI) and "skype:" (Skype URI):
Just in one of the cases, when I included a URI to visit a web site, the phone performed an automatic action: the web browser was launched and it opened the requested URL. It's important to highlight that
you don't need to install any app
, it's done with the built-in Android NFC reader. You can watch it in the video below where I use
NXP TagWriter
to write the URL in the tag:
This can be very useful from the commercial point of view. For instance, in Tokyo they are testing this type of advertising in the trains, when the passengers read the NFC tag in the straps then their web browsers open the specific URL. However, from the security point of view I don't think this is a good idea, knowing that this URL can be malicious and can host any kind of exploit.
I can remember the QR-Code leading to a Webkit exploit
, do you? We could spoof the real tag putting our malicious one in these straps, for example...
Besides writing simple URIs in the tags we can use the SmartPoster format to include some additional metadata like titles, texts, etc. Among these parameter we can find the "action", useful to indicate if the reader must perform the action specified by the URI automatically, open the application to edit the data or store the data for using later. This could be very dangerous but, fortunately, at least in Samsung Galaxy Nexus this parameter is ignored.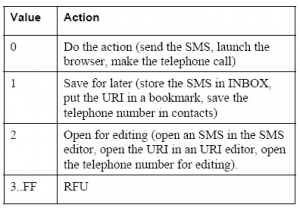 Collin Mulliner has already done some investigations about this
and he was able to make some kind of URI spoofing to cheat on the user and make him think that the URI was performing a different action (showing a fake URL, for example). After some quick tests I think there is no much luck with this phone but maybe there are new ways to do it. Let me know if you find any cool stuff ;)

Note: Thanks a lot to my colleague Mikel for lending his mobile phone out to me ;)
Submitted by jesparza on Sat, 2012/06/30 - 20:42